With 2017 around the corner and full swing in engagement season, we've compiled the top wedding trends and predictions of 2017 to create this ultimate guide for brides to be!  Say goodbye to DIY. Think sophisticated, not rustic. This year pieces are delicately designed to detail a thoughtful selection that's been chosen specifically for the celebration.
Wedding Decor /  Design Trends

Via – Chic Vintage Brides, Wedding Forward, BRIDES, Brit + Co, Style Caster
Botanical: Or Greenery is the BIGGEST trend for 2017 in all elements of design. This is the absolute hottest trend. From decor, to stationary, to the color of the year. The 'indoor garden' is  going  to  be  a  huge  concept  in  the coming year. You may be aware of the 'outdoors in' and 'garden' themes in the past, but this is a little different. Instead of earthy and woodland tones the 'botanical' look is clean and contemporary. Lots of succulents and cacti accented with glass, those awesome geometric terrariums and a color palate of green and white.
via – Stressfree, MODWedding, 100 Layer Cake, Rock My Wedding, ruffledblog.com
Geometric: Think shapes! Geometric patterns are all the rage in the wedding design world this year. A little touch of geometric shapes can turn all the traditional elements of a wedding or event into something a little (or a lot) more funky. From hanging flowers in geometric terrariums, to decorating cakes with sharp patterns. Geometric is everywhere!

via – Inspired By This, Junebug Weddings, Once Wed
Industrial: Decorators and designers are moving away from the glitz and shimmer into industrial and rustic themes. This trend focuses on bare lightbulbs, exposed brickwork, stripped down decor, warehouses, and metallics that are weathered and tarnished. Think gunmetal for color, paired with with reds and tones of teal and moss.

via – Pinterest, Nathan Walker, Style Me Pretty, Wedlux
Mix & Match: Why be stuck to one theme or trend when you can have them all! That's the great idea behind the mix and match trend. All of the decor ideas mentioned above can be mixed and matched to create a stunning wedding design. Rustic rose gold colors in a patterned geometric table runner, or decorate an industrial, smoky metallic table cloth with geometric terrariums filled with botanics.Add in some succulents, some patterns, some shapes, whatever your heart desires!

Floral Weddings Trends
via – Wedding Forward
With the greenery or botanical the major theme this year, green natural floral will be everywhere. We love this decor trend because it's so easy to incorporate greenery into any venue design or bouquet. From vine table runners to backdrops and of course bouquets.
Via – Boho Weddings
Bridal bouquets this year are going to have a much looser, organic shape then the more traditional formed bouquets.
Color Wedding Trends
Thanks to Pantone they realsed their Top 10 colors of the year. Niagara, Primrose Yellow, and Lapis Blue took the top 3 spots, followed by Flame Scarlet, Island Paradise, Pale Dogwood, Greenery (are you surprised?), Pink Yarrow, Kale and Hazelnut.
Niagara & greenery pallet inspiration via – StylishWedd
Trending in weddings this year you'll also see rose gold and peach, as well as neutrals pallets.
Stationary Wedding Trends
2017 is the year of greenery, following suit green leaves invites is expected to become a huge trend.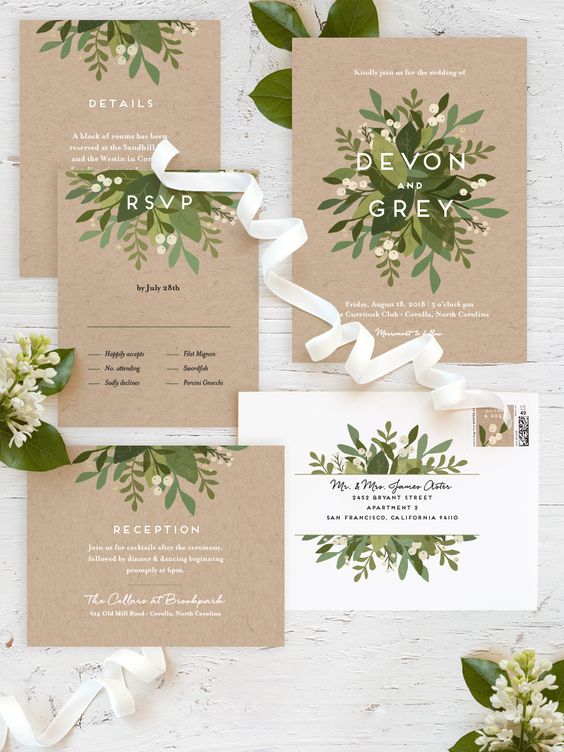 via – minted
Watercolor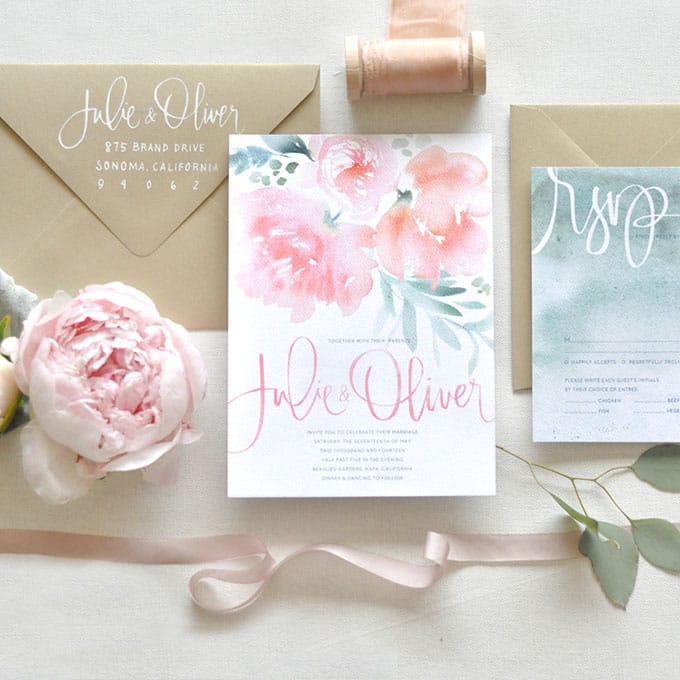 via – Brides
Calligraphy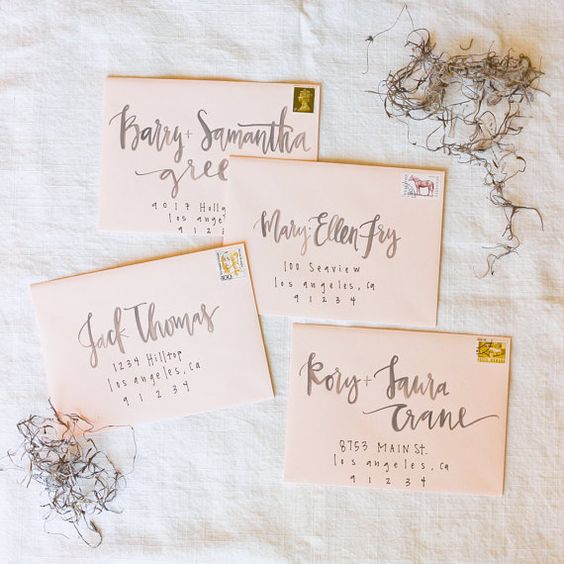 via – afabulousfete
Minimalist nothing shows off Calligraphy better than minimalist designs, allowing you to focus more attention on the letters and words, than distracting images or colors.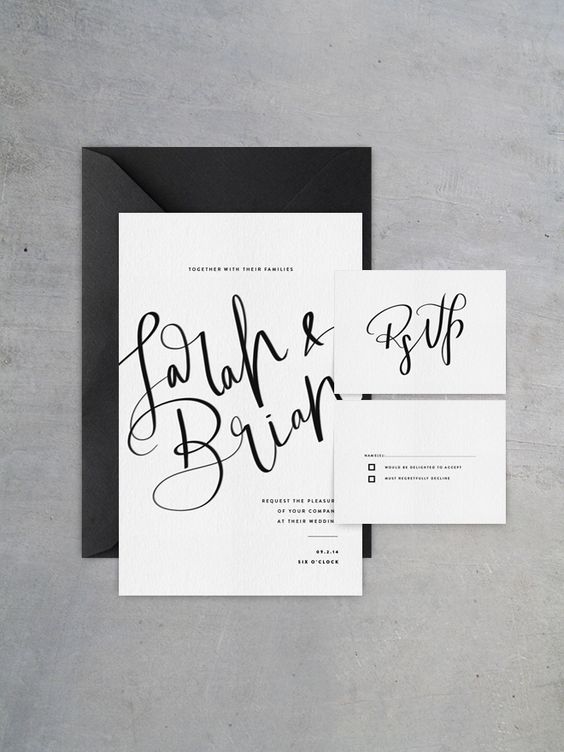 Metallic Touches in 2017 will appear on wedding invitations such as foil pressed calligraphy, borders, polka dots, or envelope liners.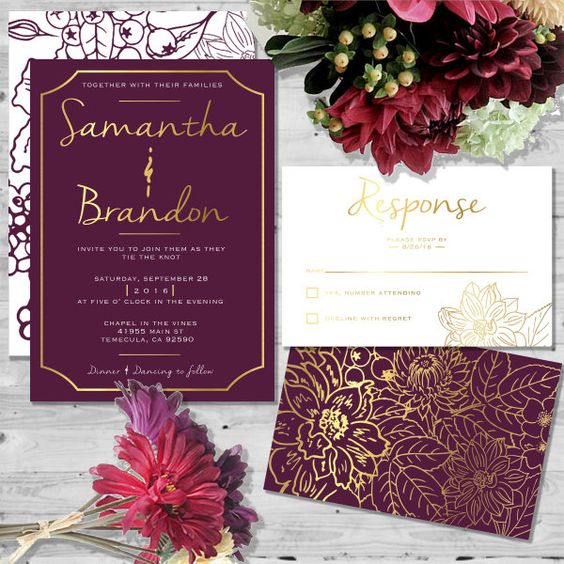 Wedding Cake Trends
Naked cakes are so 2016, hugely popular last year was the naked cake and we are so excited to welcome the Partially-Naked cake. Simple and elegant with just the right amount of  icing.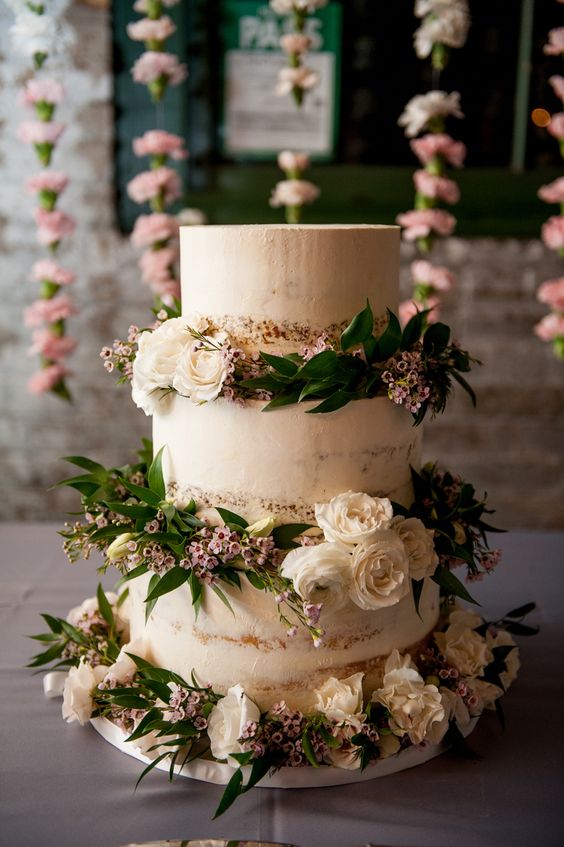 via – KJ & Co.   
This style allows for a large range of customization, and can work with basically any theme. Watercolor cakes are on point for 2017 weddings.
Who says tier cakes have to be centered? We love the new trend of off-set wedding cakes.
via – Hey Wedding Lady
More and more brides are opting for cake alternatives we've seen donuts and cupcakes but 2017 is the year of Macaroon cakes. This has to be the most chic and trendy alternative to a wedding cake.
via – and so to wed